The goal of chiropractic care is to help patients achieve total health and balance with their body. With this in mind, we can recommend healthy food choices and supplementation. Nutritional counseling can assist a patient on their return to optimal health.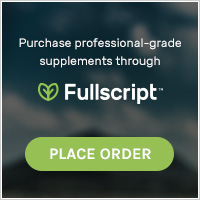 DISCLAIMER OF ALL WARRANTIES

ALL PRODUCTS AND SERVICES ARE PROVIDED BY FULLSCRIPT AND PAYMENT PROCESSOR "AS IS," AND WE HEREBY DISCLAIM ANY IMPLIED REPRESENTATION, CONDITION OR WARRANTY WHATSOEVER. TO THE MAXIMUM EXTENT PERMITTED BY APPLICABLE LAW, FULLSCRIPT MAKES NO WARRANTIES OR CONDITIONS OF ANY KIND, WHETHER EXPRESS, IMPLIED, STATUTORY OR OTHERWISE, WITH RESPECT TO THE PRODUCTS, CONTENT OR SERVICES, INCLUDING THOSE SERVICES PROVIDED BY THE PAYMENT PROCESSOR, AND SPECIFICALLY DISCLAIMS ALL IMPLIED WARRANTIES OR CONDITIONS, INCLUDING ANY WARRANTIES OF MERCHANTABILITY, MERCHANTABLE QUALITY, ACCURACY, COMPLETENESS, VALIDITY, TIMELINESS, NON-INFRINGEMENT, RESULTS, OR FITNESS FOR A PARTICULAR PURPOSE, OR THAT THE OPERATION OF THE SITE OR THE PROVISION OF THE SERVICES WILL BE AVAILABLE, UNINTERRUPTED OR ERROR-FREE OR THAT ALL ERRORS WILL BE CORRECTED OR THAT THE SITE OR SERVICES WILL BE FREE OF VIRUSES, WORMS, TROJAN HORSES OR OTHER CODE THAT MANIFEST CONTAMINATING OR DESTRUCTIVE PROPERTIES.

Indemnity and Limitation of Liability

You hereby agree to defend, indemnify, and hold Fullscript, along with its affiliates, subsidiaries, directors, officers, agents and employees
(collectively, the "Protected Parties"), harmless for any and all damages, costs, claims, liabilities, losses, fees and expenses incurred by Fullscript or a third party arising from or related to Fullscript's provision of Services to You or on Your behalf, including but not limited to any breach of a representation or warranty of this Agreement or Your use of Our Site or Services. You agree that this duty to defend extends to requiring You to pay for Our reasonable attorneys' fees, court costs, expert witness fees and disbursements.

IN NO EVENT SHALL THE PROTECTED PARTIES BE LIABLE TO YOU OR ANY THIRD PARTY FOR ANY LOST PROFITS OR FOR ANY INDIRECT, SPECIAL, INCIDENTAL, EXEMPLARY, PUNITIVE, OR CONSEQUENTIAL DAMAGES HOWEVER CAUSED AND, WHETHER IN CONTRACT, TORT OR UNDER ANY OTHER THEORY OF LIABILITY, WHETHER OR NOT FULLSCRIPT HAS BEEN ADVISED OF THE POSSIBILITY OF SUCH DAMAGES. IN NO EVENT SHALL OUR TOTAL AGGREGATE LIABILITY TO YOU ARISING FROM OR RELATED TO THIS AGREEMENT EXCEED THE AGGREGATE AMOUNT OF COMMISSIONS PAYABLE TO YOU FROM FULLSCRIPT HEREUNDER DURING THE THREE (3) MONTHS PRECEDING THE FIRST CLAIM GIVING RISE TO A CAUSE OF ACTION HEREUNDER.

NONE OF PROTECTED PARTIES WILL BE LIABLE OR HAVE ANY RESPONSIBILITY OF ANY KIND FOR ANY LOSSES, DAMAGE OR DESTRUCTION OF DATA, INCLUDING, WITHOUT LIMITATION, LOSS OF ALL YOUR ACCOUNT INFORMATION OR LOSS OF YOUR
PRODUCT ORDER INFORMATION, THAT AND DAMAGES OR LOSSESS YOU INCUR IN THE EVENT OF ANY FAILURE OR INTERRUPTION OF THE SERVICES OR RESULTING FROM THE ACT OR OMISSION OF ANY OTHER PARTY INVOLVED IN MAKING THE SERVICES AVAILABLE TO YOU OR COLLECTING THE DATA CONTAINED THEREIN, OR FROM ANY OTHER CAUSE RELATING TO YOUR (OR YOUR PATIENTS') ACCESS TO OR YOUR (OR YOUR PATIENTS') INABILITY TO ACCESS THE SERVICES, WHETHER OR NOT THE CIRCUMSTANCES GIVING RISE TO SUCH CAUSE MAY HAVE BEEN WITHIN THE CONTROL OF ANY OF THE PROTECTED PARTIES. IF ANY REMEDY HEREUNDER IS DETERMINED TO HAVE FAILED OF ITS ESSENTIAL PURPOSE; ALL LIMITATIONS OF LIABILITY, DISCLAIMERS OF LIABILITY, AND EXCLUSIONS OF LIABILITY SHALL REMAIN IN EFFECT.

You agree that the Protected Parties are not responsible in any way for damages caused by third parties who may use Our Services or who provide
Products or Services through the Site, including but not limited to people who commit intellectual property infringement, defamation, tortious interference with economic relations, or any other actionable conduct towards You. Further, You agree that the Protected Parties are not responsible for any failure of a third party to comply with or fulfill any contractual obligation, including but not limited to any actions taken by a Payment Processor to place a hold on Your funds, any failure by a Payment Processor to direct payments to the correct destination or by a Health Product Distributor with respect to shipping or delivery, or any disruptions, scheduled or unscheduled, intentional or unintentional, of Our Site which may prevent access temporarily or permanently. We are not responsible for any fraud, malpractice, negligence, or other torts by any third party.

For jurisdictions that do not allow Us to limit Our liability: Notwithstanding any provision of these Terms, if Your jurisdiction has provisions specific to waiver or liability that conflict with the above then Our liability is limited to the smallest extent possible by Law. Specifically, We do not disclaim liability which is not lawful to exclude, either now or in the future.

The provisions of this Section are for the benefit of the Protected Parties. Each of the Protected Parties shall have the right to assert and enforce those provisions directly against You on its own behalf.

IF YOU ARE A RESIDENT OF A JURISDICTION THAT REQUIRES A SPECIFIC STATEMENT REGARDING RELEASE THEN THE FOLLOWING APPLIES. AS PART OF THIS AGREEMENT, CALIFORNIA RESIDENTS MUST, AS A CONDITION OF THIS AGREEMENT, WAIVE THE APPLICABILITY OF CALIFORNIA CIVIL CODE SECTION 1542, WHICH STATES, "A GENERAL RELEASE DOES NOT EXTEND TO CLAIMS WHICH THE CREDITOR DOES NOT KNOW OR SUSPECT TO EXIST IN HIS OR HER FAVOR AT THE TIME OF EXECUTING THE RELEASE, WHICH IF KNOWN BY HIM OR HER MUST HAVE MATERIALLY AFFECTED HIS OR HER SETTLEMENT WITH THE DEBTOR." YOU HEREBY WAIVE THIS SECTION OF THE CALIFORNIA CIVIL CODE. YOU HEREBY WAIVE ANY SIMILAR PROVISION IN LAW, REGULATION, OR CODE THAT HAS THE SAME INTENT OR EFFECT AS THE AFOREMENTIONED RELEASE.